Marketplace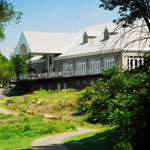 Commemorate that special moment at Eagle Creek Golf Club. It brings together the beauty of an unspoiled setting as perfect and unique as your special day. Let our club event planner assist you with all your wedding details.
Groups of 10 to 140 guests.
With exquisite grounds and breathtaking views, Emerald Hills is perfect for both intimate affairs and large weddings. You will enjoy exceptional hospitality and mouth-watering cuisine. Groups of 24 to 200 guests.
The cry of the loon and the glistening water coupled with our well-appointed clubhouse provide an idyllic setting for your wedding day. Known for our hospitality, Grandview is a bit of elegance in the heart of cottage country. Groups of 50 to 200 guests.
Experience a dream destination wedding at Downtown's luxury lakefront urban oasis. Weddings, Bridal Showers, Rehearsal Dinners, and Brunches can all be beautifully arranged at Hotel X Toronto. Choose from stunning rooftops and terraces, two ballrooms, a Cinema, an art gallery, a sun filled historical site or garden plaza. Let the celebration last all weekend with unparalleled resort-style amenities.
The hallmark of ClubLink, King Valley Golf Club offers you and your guests superb hospitality, elegant surroundings and first-class cuisine. Groups of 24 to 200 guests.
Warm hospitality and an outstanding facility combine to make a perfect setting for a memorable wedding or reception.
Groups of 24 to 160 guests.
Built in 1926, the Liberty Grand is one of Toronto's few heritage complexes. This monumental waterfront property boasts three impressive grand ballrooms, decorated in traditional early 1900's elegance, and a modern open concept room. With crystal chandeliers, iron-laced balconies, thirty foot ceilings, and floor-to-ceiling windows overlooking Lake Ontario, you will enjoy a luxurious feel of stately elegance.
Living Water Resort offers a wide range of venues for your special day, all situated in close proximity to guest accommodations. Ideal for celebrations bringing together an intimate crowd or larger gatherings of up to 220 guests, Living Water presents multiple venues to cater to your needs.
A commitment to quality along with imagination, personalized planning, and an unparalleled atmosphere, define our wedding receptions.
Situated on 36 acres of picturesque manicured grounds with four elegantly decorated banquet rooms, Milton Banquet & Conference Centre is a complete wedding destination providing couples the option to have their ceremony, pictures and reception at one unique location.
Select from our all inclusive packages or choose from an array of available entrees, appetizers and dessert choices for those wishing to personalize their menu selections. Our experienced event consultants will work with you to plan and coordinate every last detail ensuring an exquisite meal and a night of great memories.