Florists
With over 30 years of experience, creating the memory of a lifetime with professional wedding photography and wedding production, Babylon Productions ( Video, Photography, DJ, Limo, Decor, Flowers, Cake, Photo Booth, Custom Dance Floor)
Best For Bride is a One Stop Bridal Shop offering a wide selection of elegant, high-quality dresses and accessories for special occasions, for purchase or rental.
Bridal Gowns
Bridesmaid Dresses
MOB Dresses
Accessories
Flowers and Decor
Wedding Invitations
BEST FOR BRIDE = Best Dresses, Best Quality, Best Service and Best Prices
Four locations to serve you:
ETOBICOKE (MISSISSAUGA)
5359 Dundas St. West (at Kipling)
Etobicoke, ON, Canada, M9B 1B1
Phone: (416) 233-3393
E-mail: etobicoke@bestforbride.com
TORONTO
566 Sheppard Av. West (at Bathurst)
Toronto, ON, Canada, M3H 2R9
Phone: (647) 430-7498
E-mail: toronto@bestforbride.com
BARRIE
303 Dunlop St. West (at Highway 400)
Barrie, ON, Canada, L4N 1C1
Phone: (705) 503-3300
E-mail: barrie@bestforbride.com
HAMILTON
865 Upper James St
Hamilton, ON, Canada, L9C 3A3
Phone: (289) 755-0262
E-mail: hamilton@bestforbride.com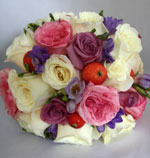 Trained in London, England's West End, Fran Sackler Floral Designs gives your wedding flowers elegance and a unique style that is sure to make your special day a day to remember.
Whether your dream is rustic or elegant, intimate or grand, and whether it calls for our luxe couture treatment or simpler, à la carte services, you'll enjoy the artistry, special care and highly personal touches that set Laurel's On Whyte apart.