Florists
Whether your dream is rustic or elegant, intimate or grand, and whether it calls for our luxe couture treatment or simpler, à la carte services, you'll enjoy the artistry, special care and highly personal touches that set Laurel's On Whyte apart.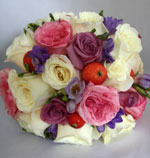 Trained in London, England's West End, Fran Sackler Floral Designs gives your wedding flowers elegance and a unique style that is sure to make your special day a day to remember.
With over 30 years of experience, creating the memory of a lifetime with professional wedding photography and wedding production, Babylon Productions ( Video, Photography, DJ, Limo, Decor, Flowers, Cake, Photo Booth, Custom Dance Floor)
Best For Bride is a One Stop Bridal Shop offering a wide selection of elegant, high-quality dresses and accessories for special occasions, for purchase or rental.
Bridal Gowns
Bridesmaid Dresses
MOB Dresses
Accessories
Flowers and Decor
Wedding Invitations
BEST FOR BRIDE = Best Dresses, Best Quality, Best Service and Best Prices
Four locations to serve you:
ETOBICOKE (MISSISSAUGA)
5359 Dundas St. West (at Kipling)
Etobicoke, ON, Canada, M9B 1B1
Phone: (416) 233-3393
E-mail: etobicoke@bestforbride.com
TORONTO
566 Sheppard Av. West (at Bathurst)
Toronto, ON, Canada, M3H 2R9
Phone: (647) 430-7498
E-mail: toronto@bestforbride.com
BARRIE
303 Dunlop St. West (at Highway 400)
Barrie, ON, Canada, L4N 1C1
Phone: (705) 503-3300
E-mail: barrie@bestforbride.com
HAMILTON
865 Upper James St
Hamilton, ON, Canada, L9C 3A3
Phone: (289) 755-0262
E-mail: hamilton@bestforbride.com