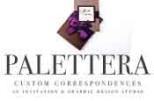 Website | Contact
548 Carlton Road, Unit 206, Unionville, ON, L3R 0C6 (Map It)

Custom: we vouch a scrupulous design process, ensuring each piece is like no other.
Correspondence: Beyond just beautiful, our letterpress stationery relates to life.

PALETTERA invitations embody thoughtful design, impeccable craftsmanship and cultural flair, transforming your love stories into meaningful graphic form. Touch hearts - evoke memories, joyful tears, envy for your outstanding taste, and a desire to attend your wedding.